If you plan on trading, or selling any of your crop you might want to figure out what has the most value. If you only intend to eat your crop, then grow whatever you like! Here are some of the crops that are worth more in the Mesa AZ area:

http://ag.arizona.edu has information on intensive gardening, and they say the following are the most valuable crops for this area, for the small space farmer: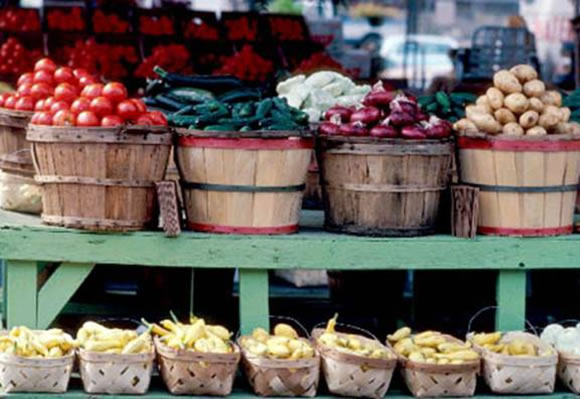 Top Aquaponics Vegetables in Economic Value (Single Season):
Tomatoes
Leaf lettuce
Cucumbers
Peppers
Summer squash
Broccoli
Edible pod peas
Head lettuce
Swiss chard
Beans (pole, bush)
Top Raised Bed or Dirt Vegetables in Economic Value (Single Season):
Onion storage bulbs
Turnip (green + roots)
Beets
Green bunching onions
Carrots
Other Valuable Crops Considering Long Term:
Fruit producing trees and shrubs
Asparagus
Rhubarb
Horseradish
Exotic Fruits
Values based on pounds produced per square foot, retail value per pound at harvest time, and length of time in the garden.
Low-Value Crops Not Recommended for the Small Space Farmer:
Corn
Squash
Melons
Pumpkins
Miniature varieties or trellising may increase value per square foot.
Dirt vegetables are listed because I plan on putting fish emulsion from the swirl filters onto the raised dirt beds. Anything with a bulb (onions, beets, horseradish, potatoes, etc), will grow in aquaponics, but the bulb may never form because everything is so wet. If it does form, it might rot. I've seen others growing carrots, but they come out the shape of apples, so I don't think that will be appealing for resale.
In your aquaponics system you can grow almost anything (check your hardiness zone to make sure frost won't kill it though). I plan on growing things that my neighbors would find valuable/desireable so we can trade for their fruit trees, etc. Until I have excess, I'm only growing things I like… and turnips won't be one of them!